Press samples ahead!
Vampires? Vampires! Awesome way to kick off the month of October, huh?
I'm seriously excited for this collab because I'm incredibly fond of these three makers AND vampires. True Blood was/is still one of my favorite shows. Thank you HBO GO for keeping it on there. Now I just need to get my hands on the books. SOON.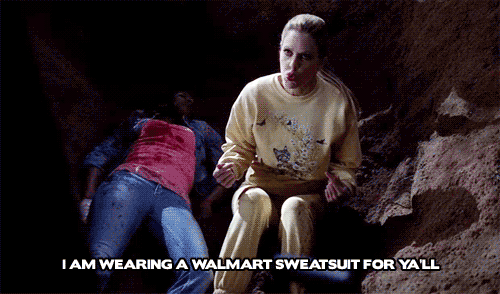 I'm guessin' y'all would like a little more info on the polishes, huh? Fiiiiiiiine, fine. I'll stop using True Blood gifs.
The set is called the Immortal Beloved Trio and will be available in Poetry Cowgirl Nail Polish's shop this Saturday, October 1st at 12pm EST. The collab features 3 full size (15mL) polishes, one from each maker – PCNP, Leesha's Lacquer, and Seventy Seven Nail Lacquer – all of which were inspired by vampires.
Y'all, they're gorgeous. I'm in love with every single one of them. They're all perfect, no lie.
Sparkle In The Sun | Poetry Cowgirl Nail Polish; a metallic silver loaded with holo sparkles and glitters, with a tiny touch of orange-green shifting iridescent glitter. Two coats for full opacity and it sparkles! It's darker in some lighting, but that really brings out the shift. I.. I love this one.
Blood Sucker | Leesha's Lacquer; a juicy blood red jelly with black and iridescent glitters. Hooooooooooooooooooooooooly shitballs, you guys. This one completely blew me out of the water. I needed three coats because of my VNL, but it really added to the juiciness of it. It's got so much depth, it's unreal. It's vampy and delicious.
Fang-tastic | Seventy Seven Nail Lacquer; a rich jelly-like black polish with copper glitter, red flakies, and a tiny hint of holo glitter. Okay, so this going to sound odd, but it reminds me of a cold, dark lake with leaves in it, and I love it so. It's perfect for fall. It's got so much depth to it and the base is pretty dense (not in a negative way), so I only needed two coats! The flakies and such left a tiny touch of texture, but top coat smoothed it out!
Bah, perfect, no? I'm seriously loving this trio for fall, and I'm working on coming up with some sort of nail art using the three of them. It'll happen!
DEETS:
When? Saturday, October 1st 12PM EST till the 8th.
Where? http://www.poetrycowgirlnailpolish.com/
How much? $25 plus shipping to US and Canada!
SWEET STUFF, Y'ALL.
Oh, and more links because yes.
Okay, I'm linked out. Hopefully I didn't muck any of 'em up, hah.
I'm gonna head out and see if I can run Emerald Nightmare on my mage and eat my yummy pizza that is now cold. Butbutbut, y'all best not be late for the preorder! This trio is totally a must have!
Velasha out!
***This trio was sent to me in exchange for an honest review, which can be found above!***